Chester County, Pennsylvania currently has a least two active pipeline projects winding through it. The Columbia Pipeline Group's Eastside Expansion Project which runs from West Vincent to West Bradford, and Sunoco Logistics Mariner East 2 Project running from northwest to southeast Chester County. Hundreds of Chester County residents have been or will be approached with easement agreements permitting the installation of a pipeline under a portion of their property. Because the companies are utilities under Pennsylvania law, they are able to take the rights to a portion of your property through eminent domain in the absence of an easement agreement. However, these companies generally try to avoid taking property through eminent domain.
Pipeline easements can have numerous impacts on your property resulting in the loss of mature trees, buffering from traffic sound and lights, storm water runoff and overall aesthetics. It may also limit your ability to build a sidewalk, shed, pool or fence on a portion of your property. While these are long term impacts that effect the value of your property, there are also short term impacts during the construction process. In Chester County, it appears that the pipelines will be underground. Therefore, if you grant an easement part of your property will be subject to open trenching, Horizontal Directional Drilling (HDD) or possibly both depending on the size and location of your property. Open trenching involves the digging of an opening in the ground wide and deep enough to accommodate the pipeline. During this process your property may be cleared and regraded.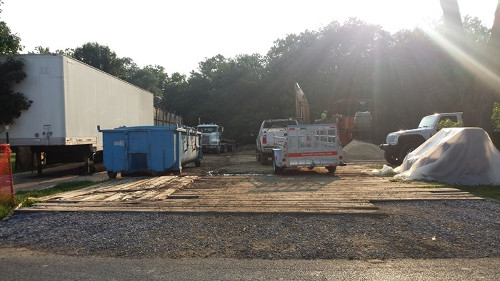 Another option for the pipeline companies is HDD. HDD does not require open trenching, but does require the creation of a drill pit and borings utilizing what is commonly referred to as bentonite or drilling mud. The photograph above is of a HDD drilling site in Caln Township. Because the majority of the process takes place underground and cannot be observed, this video provides a very general overview of what the horizontal drilling process involves. Although the process would appear to be less intrusive and destructive as open trenching, the drilling sites can be extensive and, as was recently seen in Chester County, the drilling mud or bentonite can leak to the surface as it did in May and June of this year. The occurrence of these leaks "… is not unusual."
There are a myriad of issues and potential impacts on your property once a pipeline easement has been granted. The good news is that many of the terms and the compensation paid to you are negotiable.
Share on Social Media