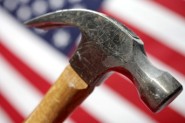 There is a joke often repeated in government contracting circles.  While considering some aspect of the work, someone will almost always say, "Remember – all of this work was done by the low bidder."  This punchline is not exactly accurate: the general rule is that government contracting work is awarded to the lowest responsible bidder.  The purpose of this post is to address what this distinction means and why it is important to both government entities requesting bids and the contractors who submit them.
Decisions about which bidder is the low bidder are objective:  the bottom line prices of the bidders are compared and the lowest wins.  The government entity requesting bids has little discretion in making this determination.  However, a decision about whether the lowest bidder is also a responsible is not so objective.
The lowest responsible bidder is the bidder whose bid is lowest in dollars among the bids of those who are able to perform the contract promptly, faithfully, skillfully and according to plans.  The entity requesting the bids can base this decision on information elicited through pre-qualification, questionnaires included in the bid package, first-hand knowledge that it has of this bidder's performance or, in some instances, post-bid investigation.  This aspect of the bid decision is subjective and requires the exercise of discretion by the awarding entity.
The question is, "How is this discretion to be exercised?"  On one hand, the government must maintain a "level playing field" for all bidders that does not allow any aspect of favoritism or personal preference.  On the other hand, the government must also get the best value and product for the taxpayer – not just the least expensive.  Although the law is not clear, some requirements can be extrapolated: 1) the government cannot waive any material defects; 2) when it awards a contract to a responsible bidder who is not the lowest, the government must be able to enunciate a clear reason for having done so, and; 3) where this determination is not the product of first-hand knowledge, investigation must be undertaken that gives rise to a substantial reason for not awarding the contract to the lowest bidder.
In conclusion, bidders and government officials alike should always be aware that they are not bound to the lowest number.  The government can, and is obligated to, assure that the bidder can perform.  These officials and bidders must also be aware, however, that this inquiry should be undertaken with care so as not to abuse their discretion.
Share on Social Media