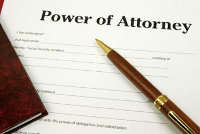 Powers of Attorney ("POA's") are authorized under Pennsylvania law and are integral to many types of transactions. The Pennsylvania Supreme Court's relatively recent decision in Vine v. Commonwealth of Pennsylvania[1], however, has injected uncertainty into the immunity afforded when a third party acts in good faith reliance upon a POA.
Section 5608(b) of Pennsylvania's Probate, Estates and Fiduciaries Code provides:
Any person who acts in good faith reliance on a power of
attorney shall incur no liability as a result of acting in
accordance with the instructions of the agent.
In Vine, the Court held that the immunity of Section 5608(b) applies only in circumstances where the POA is actually valid and, by extension, the agent is legally an agent. While at first glance this may not appear to be such a radical concept, the practical effect is quite disturbing and disruptive for third parties who regularly engage in transactions involving POA's. Prior to Vine, when an agent presented a POA that facially met all statutory requirements and thus appeared to be valid, a third party had comfort level in carrying out the agent's directions because it was believed that in instances where a problem developed, Section 5608 provided immunity.
Now in a post-Vine world, a third party who acts at an agent's direction pursuant to a POA does so at their peril unless determining first that the POA is in fact valid and the agent is in fact authorized. Since conducting such an investigation is time-consuming, potentially costly, and cumbersome, an alternative is for third parties to simply decline to engage in transactions in which a POA is involved. Since Vine, increasingly many third parties are opting for this latter approach. A disruption to banking affairs, real estate transactions, and estate planning is the obvious result.
To ameliorate the effects of Vine, and restore commercial viability to POA's, discussions are under way to amend the Probate, Estates and Fiduciaries Code to provide greater safeguards to principals executing POA's, and to clarify the circumstances under which third parties acting in good faith when presented with POA's can expect immunity. For principals, amending Section 5601(b) to both require and increase the number of witnesses, requiring specific averments as to free will and capacity, and requiring formal execution by the principal and witnesses in the presence of a notary public, are apt to provide greater protections and reduce the chances of fraudulent or invalid POA's entering the stream of commerce. For third parties, amending Section 5608(b) to expressly provide immunity when a third party acts in good faith reliance upon a POA that appears to be valid makes a great deal of sense and would go a long way toward returning POA's to the level of acceptance found prior to Vine.
The Pennsylvania Bar Association's Section on Real Property, Probate and Trusts, and the Elder Law Section jointly support such changes and it is hoped that the legislative process will move forward and act to amend the Probate, Estates and Fiduciaries Code at the earliest possible opportunity.

[1] The Vine opinion was issued by the Pennsylvania Supreme Court on December 21, 2010, and it appears at 9 A.3d 1150 (Pa. 2010).
Share on Social Media