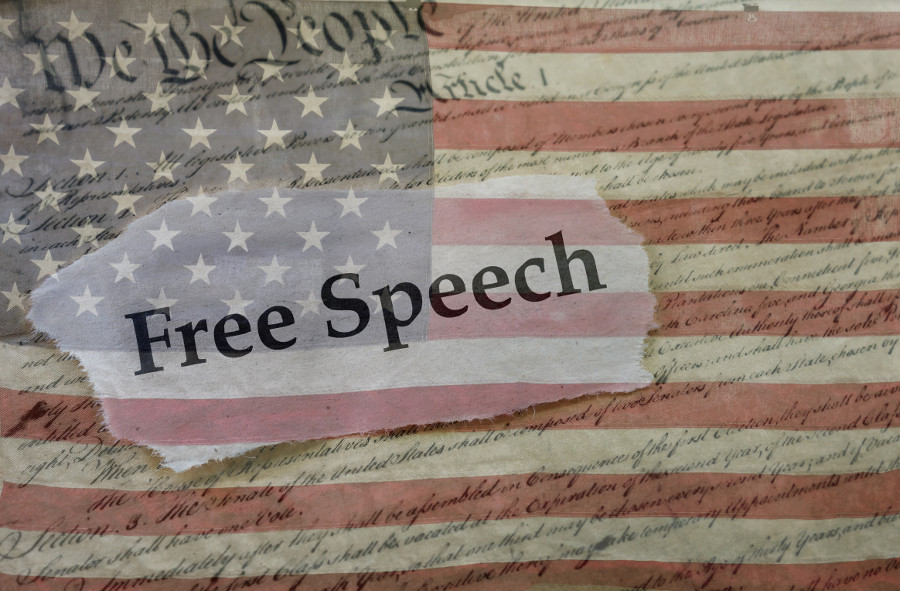 Public discussion among elected members of a local government body provides fertile ground for the creation and circulation of new ideas, evaluation of public concerns, and, more often than not, vigorous debate. Disputes between members may involve inappropriate behaviors that invite a public reprimand or censure from the body against the member. Such actions may implicate First Amendment freedom of speech concerns. A question thus arises: what reprimand or censure actions may a local government body take against an elected member, while avoiding violations of the First Amendment?
On March 24, 2022, the United States Supreme Court provided a partial answer to this question in its opinion in Houston Community College System v. Wilson, No. 20-804 (U.S. Mar. 24, 2022). Justice Neil Gorsuch penned the unanimous 9-0 opinion in which the Court held that a member of a public body did not possess an actionable First Amendment claim arising from his purely verbal censure by the board.
In Wilson, Respondent David Wilson had served on the Board of Trustees (the "Board") of the Houston Community College System (the "HCC"). Mr. Wilson often disagreed with the Board about HCC's best interests and brought multiple lawsuits challenging the Board's actions. In 2016, these escalating disagreements resulted in the Board publicly reprimanding Mr. Wilson by resolution. Mr. Wilson responded by promising that the Board's action would "never . . . stop [him]."
In the following months, Mr. Wilson alleged publicly that the Board was violating its own bylaws and other ethical rules. He further publicized his views with robocalls to constituents of certain trustees, hired a private investigator to surveil another trustee, and filed two new lawsuits in state court. At a 2018 meeting, the Board responded by adopting another public resolution to "censure" Mr. Wilson, stating that Mr. Wilson's conduct was "not consistent with the best interests of the College" and "not only inappropriate, but reprehensible." The Board also provided that Mr. Wilson was ineligible for election to Board officer positions for the 2018 calendar year; could not receive reimbursement for any HCC-related travel; and had to receive Board approval for future requests to access funds in his Board account for community affairs. The Board further recommended that Mr. Wilson "complete additional training relating to governance and ethics."
Afterward, Mr. Wilson amended one of his state-court lawsuits to add a federal claim under 42 U.S.C. § 1983, alleging, among other things, that the Board's censure violated the First Amendment. HCC then removed the case to federal court. After a myriad of procedural and substantive rulings by the lower courts, HCC filed a petition for certiorari to the Supreme Court, and the Court agreed to address the question of whether Mr. Wilson could state an actionable First Amendment claim arising from the Board's purely verbal censure.
The Supreme Court noted that the First Amendment generally prohibits government officials from subjecting individuals to retaliatory actions for having engaged in protected speech. However, the Court summarized two limits on this rule. First, the Court highlighted the historical power of elected bodies to censure members, dating back to colonial times. Second, the Court explained that a plaintiff pursuing a First Amendment retaliation claim must show, among other things, "[t]hat the government took an adverse action in response to his speech that would not been taken absent the retaliatory motive." Such adverse actions include an arrest, a prosecution, or a dismissal from government employment. However, the Court drew an important distinction in stating that "no one would think that a mere frown from a supervisor constitutes a sufficiently adverse action to give rise to an actionable First Amendment claim."
The Court then assessed the materiality of the Board's conduct based on two key facts. First, Mr. Wilson was an elected official. The court explained that elected representatives had "to shoulder a degree of criticism about their public service from their constituents and their peers – and to continue exercising their free speech rights when the time comes." Second, the only adverse action at issue before the Court was a form of speech from Mr. Wilson's colleagues, which concerned the conduct of public office. The Court stated that while the First Amendment ensured Mr. Wilson's right to speak freely on questions of government policy, the First Amendment could not "be used as a weapon to silence other representatives seeking to do the same."
Based on those key features of Mr. Wilson's case, the Court held that the Board's censure could not have deterred an elected official like Mr. Wilson from speaking. The Court reached this conclusion partially because of Mr. Wilson's own behavior and concessions, given that he did not argue that the Board's initial resolution interfered with his free speech rights, nor that the second resolution materially deterred him from speaking his mind.
The Court clarified that just because it had rejected Mr. Wilson's claim did not mean that verbal reprimands or censures could never give rise to a First Amendment retaliation claim. For example, the Court explained that a government official's reprimand or censure of students, employees, or licensees could "materially impair First Amendment freedoms." The Court also indicated that it was not addressing legislative censures accompanied by punishments or those aimed at private individuals, or censures or reprimands issued by government bodies against officials who did not serve as members of those bodies.
In concluding its opinion, the Court noted that it had previously held in Powell v. McCormack in 1969 that Congress had no power to exclude a duly elected representative who satisfied the prerequisites from office but that it did have the power to levy other, lesser forms of discipline. The Court specified that its case was a narrow one – it involved the censure of one member of an elected body by another member not involving expulsion, exclusion, or any other form of punishment, entailing only a First Amendment retaliation claim, and involving censure regarding the conduct of official business, issued by individuals seeking to discharge their public duties.
As a practical matter, members of local government bodies should understand that they may be publicly reprimanded or censured in certain circumstances, without directly implicating First Amendment rights. Local government bodies should note, however, that the holding in Wilson is narrow, and that First Amendment rights may come into play in certain fact scenarios, such as where members are excluded or expelled from participation in the body itself.
If you have questions on the exercise of free speech rights in the local government body context, please contact Matt Korenoski at mkorenoski@utbf.com.
Share on Social Media