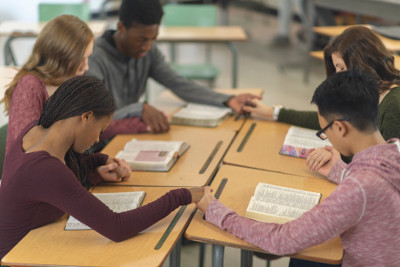 On May 15, 2023, the United States Department of Education ("DOE"), released its updated guidance on prayer in schools, which at least partially addressed some questions raised by the United States Supreme Court's recent decision in Kennedy v. Bremerton School District, No. 21-418, — U.S. – (2022). In the June 27, 2022 Kennedy decision, the Court held that a public school district in Seattle, WA could not preclude a high school football coach from engaging in a "brief, quiet, personal religious observance" at midfield after games without violating the Free Speech and Free Exercise Clauses of the First of Amendment to the U.S. Constitution.
By way of background, Section 8524(a) of the Elementary and Secondary Education Act of 1965 ("ESEA") requires the Secretary of Education to issue guidance to state educational agencies ("SEAs"), local educational agencies ("LEAs"), and the public on constitutionally protected prayer in public schools. Further, Section 8524(b), codified at 20 U.S.C. § 7904(b), requires that LEAS, as a condition of receiving ESEA funds, must annually certify in writing to its SEA that it has no policy that prevents, or otherwise denies participation in, constitutionally protected prayer in public elementary and secondary schools.
The new DOE guidance emphasizes that while schools may not require prayers to be recited by students or school authorities, the First Amendment does not mandate that schools be "religion-free zones," or that students or staff only express their private religious views at home. Specifically, the guidance states, "Although a government may not promote or favor religion or coerce the consciences of students, schools also may not discriminate against private religious expression by students, teachers, or other employees. Schools must also maintain neutrality among faiths rather than preferring one religion over another." The updated guidance also explains that when school staff speak in their official capacities, they "may not engage in prayer or promote religious views." However, not every word an employee speaks in the workplace constitutes government speech; thus, "schools have less leeway to regulate employee's genuinely private expression." Schools may, however, "take reasonable measures to ensure that students are not pressured or encouraged to join in the private prayer of their teachers or coaches."
The updated guidance also summarizes the application of constitutional principles to certain public school contexts related to prayer, such as:
Prayer and religious exercise during non-instructional time;
Organized prayer groups and activities;
Teachers, administrators, and other school employees;
Moments of silence;
Accommodation of prayer and religious exercise during instructional time;
Student assemblies and noncurricular events;
Prayer at graduation; and
Baccalaureate ceremonies.
The guidance was issued with a cover letter from DOE Secretary Cardona, who also released a corresponding video.
Practically speaking, public school administrators should continue to pay attention to the DOE's regulations and guidance related to prayer in school settings This topic is vitally important to ensuring protection of employee and student rights related to the First Amendment. When in doubt, always consult with counsel.
If you have questions about the new DOE guidance or other school law issues, please contact Matt Korenoski at mkorenoski@utbf.com.
Share on Social Media