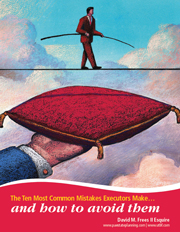 Click here to get your free copy of this valuable executor resource for Pennsylvania executors.
If you are an executor, or, if you are trying to decide who to appoint as an Executor, make sure to order and read this important report for executors by David M. Frees III.
This report examines the most common mistakes executors make and how to avoid them.
If you want to do a great job as executor and avoid personal liability, or to pick just the right person, then this is an important resource that you have to read. Click here to get the 10 Most Common Mistakes Executors Make and How To Avoid Them.
Author: David M Frees III, Esquire
To view David Frees' attorney Rating by AVVO of "Superb!" click here.
To visit our content filled web site for executors visist www.paestateplanners.com – it is filled with articles for Pennsylvania executors, trustees and for those planning their estate, wills, and trusts.
Share on Social Media