This is the time of year when we make resolutions and think about a new start. In that spirit, here are a few ideas for our clients, friends and advisers, that are worth considering for this weekend and for making your life a little better this year and beyond.
Now these are more related to making your life a little better than just focused on legal issues but we hope that you'll enjoy and use them.
Here are just a few things that you can do, starting right now, to improve your business and/or your life. Some are quite simple and others take a little more effort. But all of these little ideas have a proven ability to make life better.
First, some big picture strategic ideas. Then, some very practical ideas for the new year.

Happiness and luck favor the prepared and open mind as well as a body in motion.
1. Even before you have finished all of your resolutions, start to take action right away even if only to set deadlines to do things. Action yields results and is the single most important factor in separating success from failure.
Happiness is a decision but can be affected by small things. According to the experts:
2. Get enough sleep, exercise (which makes sleep better) and make your bed- which your mother always told you to do. Apparently, this little thing shows your mind that you're making positive changes.
3. Do you often feel overwhelmed? Again, some time management experts and many psychologists say: Make a list of three things and three things only that you WILL accomplish each day and write them down in the morning. Just three things. make them the most important and then construct your day so that you do them. Often, we have massive lists that just keep growing. That doesn't make your life any easier so break off a manageable piece. Get three things done.
4. Don't just simplify your TO DO list- simplify your life as well. It is amazing how each little bit of simplification makes life better. Have you ever had so much stuff that when you needed something, you couldn't find what you needed? Was the stuff worth having? If you want to learn more about the process of simplification read a little of this blog each day. http://www.zenhabits.com
Good with the strategic stuff?
Try these on for practical life enhancing things:
5. Register your name, and any children or grandchildrens' names as a domain name. For example, I bought my daughter www.JamieFrees.com so that she can also own Jamie@JamieFrees.com. To get the same discount deal that I do you can click here to register names as domain names.
And remember, that if the name is already taken, you can add a hyphen (www.Jamie-Frees.com) or add the middle initial. If you want more information you can also read my blog article on reserving children's domain names by clicking here.
6. Check your credit report for identity theft, or any other
misinformation or errors that could harm your financial status and
options. You are entitled to one free check a year at
www.annualcreditreport.com.
7. While you're at it, make photocopies of your wills and trusts, deeds, car registration,
credit cards, passport, drivers license, social security card, birth certificate, and other
important papers and keep these in a safe deposit box, off site, or at least in a fireproof
box rated for at least two hours.
8. Back up your computer, your other hardware, and your life. Most people don't take the time to do this, and regret it later. But, there are a few things to do that can save you hours of time and millions of dollars of lost ideas, work, and effort.
First, copy your entire computer hard drive onto an external drive and do that today or tomorrow.
Consider using Mozy to do an external and regularly scheduled back up of your computer. And, for Mac owners – like me- start using Time Machine or SuperDuper.
Make sure that you also back up your family photos on an external hard drive, and consider using a service like Snapfish.com or Shutterfly.com
9. Want to start buying and eating healthier foods. Here's a free e-book from the government on how to eat healthy:
http://www.health.gov/dietaryguidelines/dga2005/document/pdf/DGA2005.pdf
10. Is one of your resolutions to do more recreational travel? Consider automatically getting last minute low cast fares delivered right to your email account. This is especially good if if you're retired and have flexibility. If you're a client, you probably live in the service area of the Philadelphia International Airport – a US Airways hub. If so, you can sign up for US Airway's E-Saver, and/or Southwest's Ding, or any other airline program that offers last-minute travel options so you can take quick weekend getaways whenever you feel like it. Fares on these programs can be as low as $40 round trip.
11. Make an appointment to get a full physical checkup from your physician and a good dental examination with ex-rays from your dentist. Also schedule an eye exam with an ophthalmologist.
12. If you have a young family member that has decided to become a millionaire on their own, you can help them to find out exactly how much they want to be worth and why. To analyze how much they need to save and then how to invest try this tool recommended by author Neil Strauss, the author of Emergency-This Book Can Save Your Life. http://partners.leadfusion.com/tools/kiplinger/savings01/tool.fcs
13. Make the start of the new year a time to review your estate plan and wills. For issues to consider in reviewing your will and estate plan click here.
14. Enter to win a great book for yourself or a child or grandchild. Leave a comment below with more suggestions for the new year. Or, enter to win a green reusable coffee cup by leaving a suggestion for how we can be even more environmentally friendly at the firm this year.
OK. That's plenty for now.
Have other ideas, and resolutions that you want to share?
Leave a comment below and be entered to win a prize.
I have a great book for the winner who has the best and most practical life advice, resolution, strategy or tactic. Share one now and then get going. Enjoy 2010 starting with right now.
David M. Frees III, Esquire
David Frees has achieved AVVO's highest possible lawyer rating.
P.S. Win a copy of Good To Great, or The Richest Man in Babylon. Lease a suggestion or comment below.
P.P.S. I cannot resist posting a photo of the Frees kids having a night out with Mom and Dad.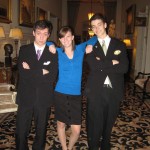 Enjopy your family this year and post a comment below.
Share on Social Media