The Will, Trust, Estate and Probate Section of Unruh, Turner, Burke & Frees Invites You To Our Upcoming Client Appreciation and Educational Events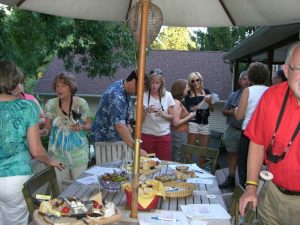 Doug, Jennifer, and I enjoyed hosting and getting together with you to say thank you for being our clients, and in 2011 we will also be hosting a series of social and educational but fun events for clients and friends of the firm.
If you're interested in attending one or more of the events that are being considered please let us know by sending me an email at dfrees@utbf.com or by calling Donna, Beth, or Denise at 610-933-8069.
Also, if you have an idea or suggestion for another event or an educational event please let us know by email or by leaving a comment below.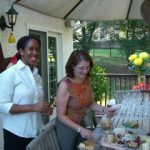 The Napa Wine Tasting Event
Just recently, we hosted a very nice wine tasting event at the Frees house where we shared some wines that Robin and I discovered during our anniversary in Napa and then served a light supper (fillet, salad, and home made deserts by Robin).
The weather was perfect and everyone had a great time. If you are interested in any future wine tasting events, please let us know that you wish to be added to the list. E-mail dfrees@utbf.com, dkaune@utbf.com, or call 610-933-8069 and mention that you want to be added to the wine events list.
So what else do we have in store for our friends and clients?
Winter/Spring Auction Event & Cocktail Party
Many clients have expressed interest in attending one of the famous
Freeman's Auction House Auctions in Philadelphia.
This local and family run business has been in operation since colonial times, is America's oldest auction house,  and they have invited us to host a cocktail reception for our clients before an auction.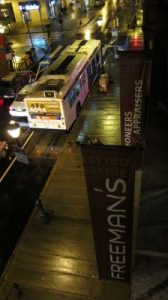 So if you're interested in bidding at an auction, selling at an auction, or just learning more about the world of art, jewelry, and antique auctions, let us know that you would like to join us when this event is scheduled.
To sign up for this event, just email dfrees@utbf.com or call us at 610-933-8069.
Fall/Winter Educational Events
Why January 1st Matters and What To Do About Your Estate Planning To Be Ready for The New Law

October 3, 2010 Dave Frees will be appearing as part of a panel including an accountant and financial adviser to help you to deal with the radical changes coming in the areas of federal estate tax and estate planning in 2011. This event is being hosted by Phoenixville Federal Bank and Trust. To register call 610-933-8069 and we will add you to the list.
Nursing Home Protection and Obamacare Update
Want to know how to lock your assets up to keep them safe from a nursing home?
Worried about Obamacare changes to medicare, taxes and insurance law and how it affects you?
Date To Be Determined: At this event, Douglas Kaune and David Frees will help you to understand what Obamacare changes in insurance, medicare, and taxation mean to you.  This program will also review how you can lock your home and assets up in a Family Wealth Protection Trust(TM) for your heirs, rather than seeing them dissipated for nursing home care.
Spring/Summer Picnic Event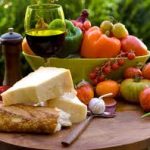 In 2011 we have a picnic planned for the late spring or early summer. The date and location are yet to be determined, but we are already working on the menu, the music, and all of the things that make a great picnic.
If you enjoy a great cook out, then let us know that you'd like to be on the invitation list for this event.  To let us know, email dfrees@utbf.com or dkaune@utbf.com or call Donna, Denise, or Beth at 610-933-8069 and tell them that you'd like to be on the client picnic list.
For more information on any event or to suggest a new event or educational topic, just email us: Attorney David Frees dfrees@utbf.com or Doug Kaune dkaune@utbf.com or call 610-933-8069.
Share on Social Media