No Will? That's Called Intestacy.
But Don't Worry.
The State Of Pennsylvania Has Done One For You.
How Do You Think That Will Work?
If you have a will and it's more than a few years old, you may have to have it reviewed because of the volatile situation with the estate tax. However, if you have never done a will it may be time. Most people don't realize, that when they fail to create and to properly execute a will, that the state of Pennsylvania will do one for you.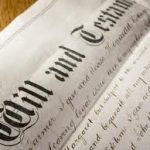 The failure to have a properly executed and legal will at the time of death makes you INTESTATE under Pennsylvania law. And, if you die intestate, the state automatically answers the following questions:
1) Who gets your estate – it may not be who you think.
2) When kids get the assets. Answer: 18. That doesn't sound good does it?
3) Who takes care of the kids – a court appointed guardian chosen by the judge (think legal fees too); and
4) Who manages the kids money – again, a court appointed guardian but only until age 18;
5) Who gets to be the administrator (the executor under a will) – and there are classes of people who may not be qualified and who might fight about who gets to do it (again, think legal fees and administrator fees).
If you'd rather be in control of these and many other issues, thn completing and executing a valid will and/or will and trust is essential.
That process can be easy and inexpensive when compared to the high costs that often result from intestacy.
For a limited time, Unruh, Turner, Burke and Frees are offering a free will review or, if you have never had a valid will or trust, a free will consultation. And while there would be fees for completing an estate plan (including a will, power -of – attorney and medical power as well as a living will) there is no charge for the review or consult and there is no obligation on your part while this offer lasts.

To claim a free will review or a free will consult call 610-933-8069 and mention offer code: DaveFreesWillReview. Donna, Beth, or Denise will be happy to schedule you.
David Frees maintains law office in Malvern, Phoenixville, and West Chester serving the 19355, 19460 and many surrounding zip codes and communities such as Devon, Exton, Chester Springs and others.
Share on Social Media