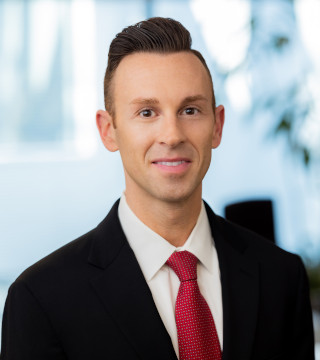 Unruh Turner Burke & Frees is pleased to announce that Ryan Jennings has been named a "2022 VISTA Millennial Superstar." According to VISTA.Today, they, along with presenting sponsors Penn State Great Valley, and the Chester County Economic Development Council, recognized "40 professionals under the age of 40 who are breaking down walls, shattering expectations and making their company, nonprofit and Chester County a better place."
This recognition is particularly special to Ryan since he has resided and spent his entire professional legal career in the County. Extremely civic and community oriented, Ryan is actively involved in the Chester County Bar Association (recently serving on its Board of Directors), and volunteers as an arbitrator in the Civil Division of the Chester County Court Administration and as a baseball and basketball coach for youth leagues in the Phoenixville area.
A partner in the Firm's Zoning & Land Use and Municipal Law departments, Ryan has experience in governmental, litigation, and appellate matters. He represents private, corporate, and municipal clients, and has appeared before hearing officers, magisterial district justices, and judges of the Courts of Common Pleas, the Commonwealth Court of Pennsylvania, the Superior Court of Pennsylvania, and Pennsylvania's Federal Courts. Ryan appears regularly before municipal bodies, such as Boards of Supervisors, Zoning Hearing Boards and Planning Commissions.
A 2007 summa cum laude graduate of Seton Hall University, Ryan served as a law clerk in the Chester County Court of Common Pleas (West Chester, Pennsylvania), the Essex County Prosecutor's Office (Newark, New Jersey), and a general practice law firm (Chester County, Pennsylvania) while in school. In addition to this recognition, Ryan has received several other significant professional accolades, including being named a Main Line Today "Top Lawyer" in Municipal Law and a "Best Lawyer for 2021" by the Daily Local News. He was also selected for inclusion in the Pennsylvania Super Lawyers "Rising Star" list for Land Use & Zoning Law in 2020 and 2021. No more than 2.5% of the state's lawyers under 40 years old are so named each year.
Share on Social Media