West Chester, Pennsylvania: Unruh Turner Burke & Frees is pleased to have represented and assisted Brandywine Conservancy in acquiring and preserving over 577 acres of land in Lower Oxford and West Nottingham Townships, Chester County.
William Burke represented Brandywine which, with invaluable support from the Oxford Area Foundation and grant funding from the Chester County Preservation Partnership Program and the Pennsylvania Department of Natural Resources, closed on the acquisition of approximately 577 acres of the Glenroy Farm from the Thouron family, along with an easement over other property bordering the westerly side of the Octorara Creek, for over $6.6 Million.
The land had been in the Thouron family for 4 generations and includes open meadows, numerous streams and ponds, walking trails and floodplains and wetlands.
Upon acquisition, the land was conveyed to Oxford Area Foundation, whose generosity made a timely closing possible, and which had agreed to undertake the responsibility for opening trails and for ongoing management and stewardship of the property as a publicly accessible preserve to be known as Glenroy Preserve.
According to the Daily Local News, "The acquisition means that 30 percent of land in Chester County is now preserved, larger than the sizes of Philadelphia and Pittsburgh combined."
Said Ellen Ferretti, the director of the Conservancy: "The acreage and diversity of resources made this property a high priority of permanent protection in southeastern Pennsylvania. The transition of the property…to a public preserve will create a unique, contiguous area of public open space that will provide exceptional recreational and educational opportunities the community and will have lasting effects on the water quality of the Chesapeake Bay. We simply could not have done this critical conservation project without the funding support of the PA Department of Conservation and Natural Resources and Chester County" The mission of the Conservancy is to protect water, "conserve land and engage communities".
According to William Burke, who heads the firm's real estate practice, the transaction was neither quick nor easy to close. Although the interests of all parties were aligned, there were numerous issues that needed to be addressed to satisfy and balance the concerns of the principal parties involved as well as the conditions and requirements of grant funding sources. "The project involved issues such as cross-easements for utilities, the easement for the banks of the Octorara Creek, and provisions to help protect the seller's residual holdings, as well as addressing other issues to satisfy the grant funding agencies."
Said Mr. Burke, "I cannot tell you how much satisfaction it gives us to have been a part of this extraordinary transaction that will benefit our community in perpetuity. It was a privilege to work with Brandywine, whose commitment was extraordinary. The expertise and tireless efforts of Brandywine's conservancy staff was awesome. We commend the Conservancy, OAF and the Thouron family for their vision and dedication to preserving this extraordinarily valuable property, and we thank Chester County and DCNR for providing funding for this worthwhile conservation initiative."
For over 30 years, Mr. Burke has represented privately held commercial real estate developers, homebuilders, land trusts, closely-held businesses, investors and individuals in connection with the acquisition, sale, financing, leasing and development of commercial properties and land intended for residential, commercial and retail development, as well as acquisition and preservation of agricultural and real estate devoted to open space and recreational uses.  He represents conservation organizations as well as landowners in the negotiation, interpretation and enforcement of conservation easements. A graduate of  Dickinson School of Law, J.D. (1984), Mr. Burke received his Masters in Taxation (LL.M.) from New York University in 1988 and his undergraduate degree from Dickinson College (B.A. cum laude 1981).
Associate Daniel LePera also provided assistance in this transaction.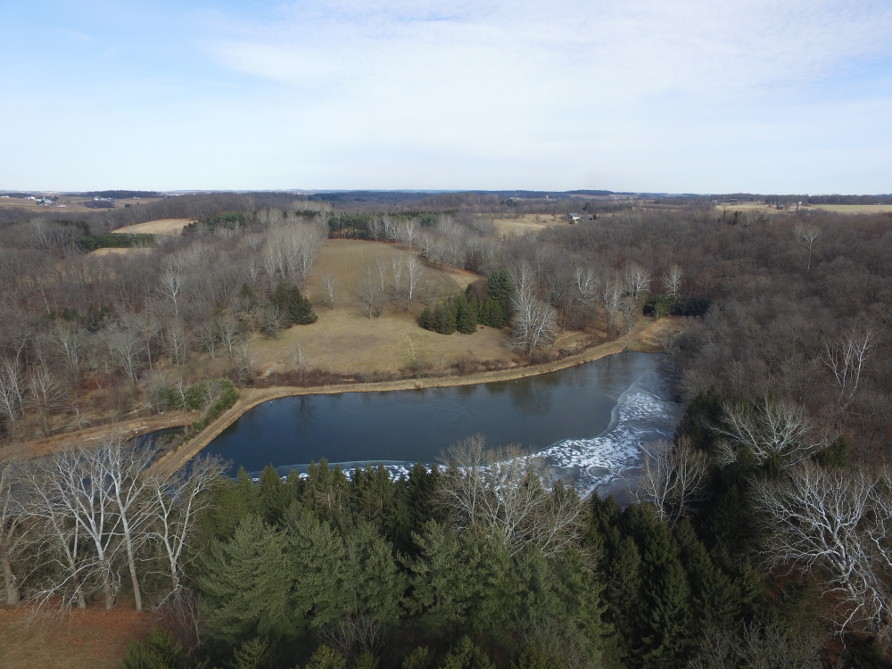 Aerial shot of 577-acre Glenroy Farm acquisition, situated along the Octoraro Creek in Chester County, PA
Photo courtesy of Brandywine Conservancy.
Share on Social Media