UTBF's Andrew D.H. Rau was pleased to participate in the June 24th groundbreaking for the new Avon Grove High School, set to be built upon the "Jennersville Campus" site located in Penn Township, Chester County, Pennsylvania. As Avon Grove's solicitor, Andy worked with the school board, administration and development team in leading Avon Grove through the land approval process. Avon Grove Superintendent Dr. Chris Marchese, Chief Financial Officer Dan Carsley, and Board President William Wood led the groundbreaking ceremonies.
Andy described the process as requiring a "top notch team of dedicated school district and municipal officials, administrators, and project professionals," and said that "years of district financial, design and legal planning culminated in the zoning and land development approvals necessary to enable the timely award of contracts, even through the recent COVID-19 health emergencies." Andy has served the Avon Grove School District for more than 15 years, leading the UTBF legal team in the original land acquisitions to assemble the 153+ acre site, and through the recent awards of approval.
UTBF's Theo Claypoole and Daniel LePera have also worked diligently on time-critical bid documentation, development agreements, and related contracts and easements essential to the project. Rau said, "I am pleased to be a part of this team, and this effort, to make the new high school a reality for the Avon Grove School District and the community." The new high school will replace the current 1957-era building located in London Grove Township, now scheduled for renovation and conversion to a grade 6-8 middle school campus.
The groundbreaking ceremonies also highlighted the architectural design, engineering, and construction leadership of KCBA Architects, Terraform Engineering, and D'Huy Engineering in bringing the project to fruition.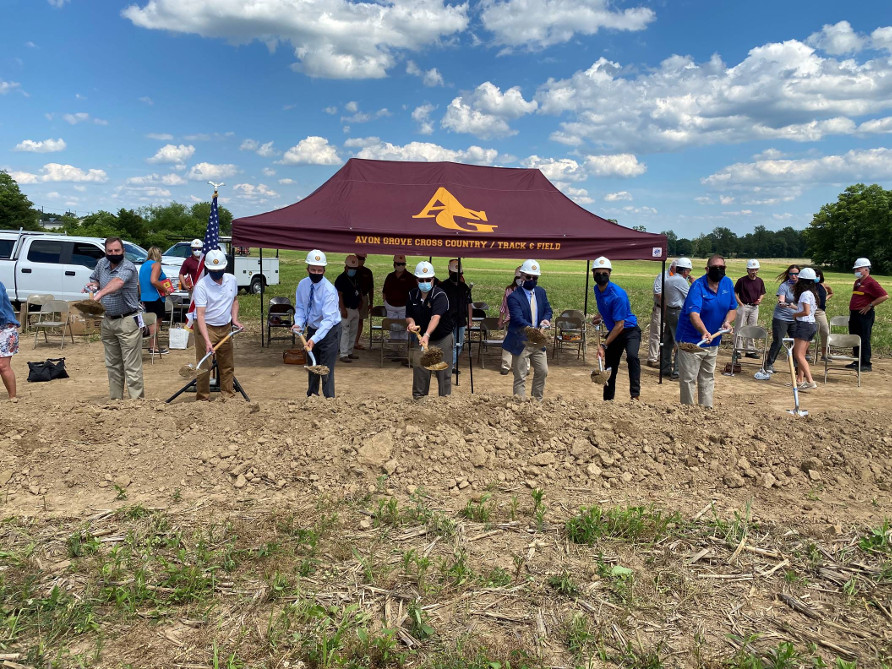 The AGSD High School project team breaks ground. From left to right: Terry DeGroot, Terraform Engineering; Mike Strohecker, KCBA Architects; Mike Kelly, KCBA Architects; Dr. Chris Marchese, AGSD; Andy Rau, UTBF; Arif Fazil, D'HUY Engineering; Henry Guarriello D'HUY Engineering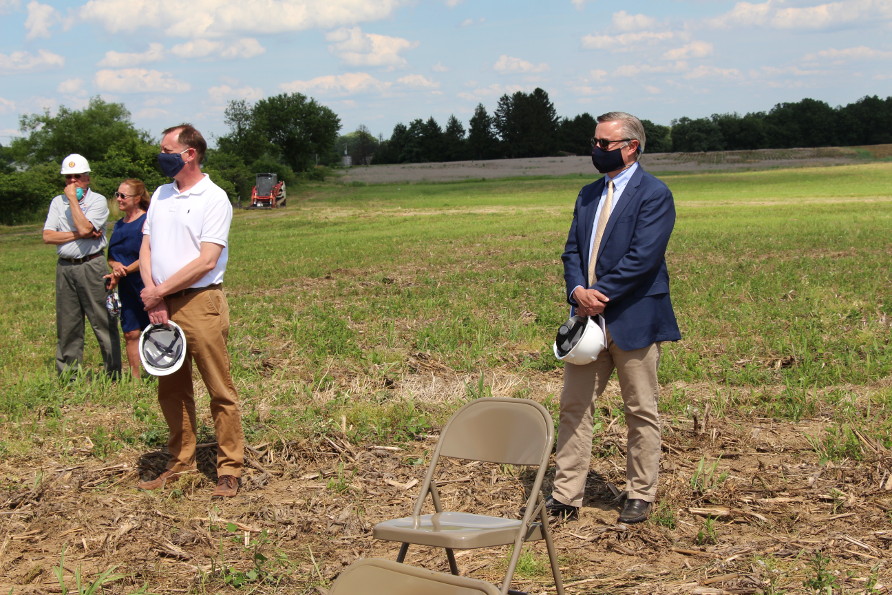 Andy Rau of UTBF (r) and Mike Strohecker of KCBA Architects (l) look on during the AGSD new high school groundbreaking. Penn Township Supervisor Victor Mantegna is in the background.
Share on Social Media